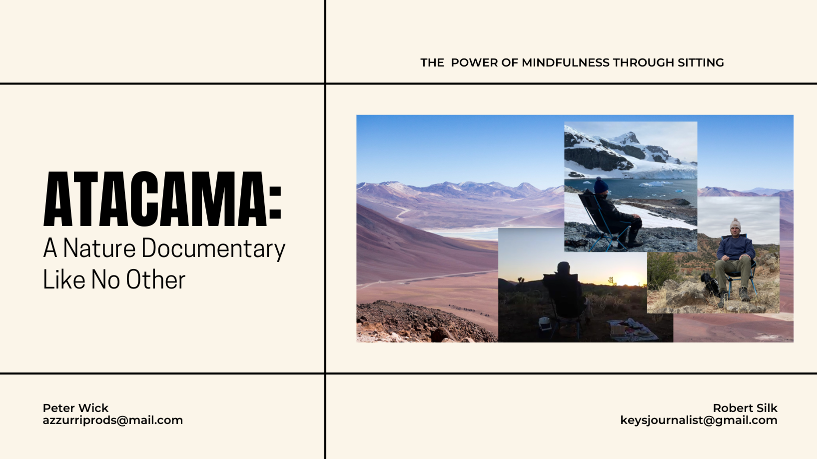 Click here browse the online Atacama brochure
Our trip to Chile's Atacama Desert is planned for December, 2023! join us in creating a nature documentary like no other!
World Traveler Robert Silk, seeks out nature at its most remote and isolated, and sits.
THE POWER OF MINDFULNESS THROUGH SITTING
This project has been awarded From The Heart Productions Fiscal Sponsorship, as well as being listed in their Hot-Films-in-the-Making, Fall 2022. We are excited to put this vote of confidence to work raising funds for a nature documentary like no other.
About Fiscal Sponsorship tax-deductible donations:
From The Heart Productions prefers that you donate via mailed paper check (they have many projects on their books, and they find it easiest to separate donations by project this way). PLEASE WRITE THE PROJECT NAME - ATACAMA - On the Memo line of your check, in order to assure that your donation is paired with the right project.
Short-term goal: $20,000 for the trip to Chile to shoot on the summer solstice
Long Term goal: $50,000 to complete post production and hit the festival circuit
Raised so far: $1,000
Pledged, Summer, 2023: $12,000
This campaign continues on through November, 2023!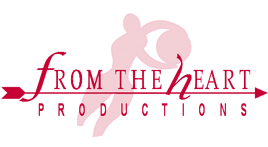 Checks should be mailed to:
From The Heart Productions
Project name: Atacama
1013 Harbor Blvd. #53
Oxnard, Ca. 93035
THE PROPOSAL
Support this documentary by funding our trip to Chile's Atacama Desert for the southern hemisphere's summer solstice in December, 2023.
THE PLAN
Sit in nature - the desert - from sunrise to sunset.
THE INTENTION
Connect with nature, with mindfulness. Slow down.
OUR STORY
On June 21, 2020, Robert Silk sat in his simple camping chair from sunrise to sunset - 14 hours 27 minutes - in Joshua Tree National Park, merely observing the day as the sun made its way searingly from east to west. Since that time Silk has carried his chair to such far-flung locales as Qatar, Palo Duro Canyon in Texas and even Antarctica, where he sat quietly this past February, taking in an amazing view as the occasional penguin waddled across his feet. Then, in late May, Silk broke his sitting record, lasting from sunrise to sunset - 14 hours and 39 minutes - in Western Colorado's Bang Canyon.
Silk's efforts to sit mindfully in remote, beautiful spots, while also testing his own endurance, have drawn international media attention, including stories in the London Telegraph, Atlas Obscura, Rome's La Repubblica newspaper, and on Melbourne's Australian Broadcasting radio affiliate to name a few examples. "Atacama," a project by producer and director Peter Wick, will chronicle Silk's next planned solstice sit, this time during the southern hemisphere's longest day, and in the world's highest and driest non-polar desert.
This will be the second installment in a potentially on-going series. The 2021 50-minute documentary, "Silk Finds What He's Looking For," won the Award of Recognition at Impact Docs Awards. It was an official selection at Roma Cinema Doc and the FlickFair on-demand festival. As a selection of FlickFair - for which it was recruited to a part of - the film spent the month of January, 2022 on Apple TV, Roku TV, Fire TV, and other popular streaming services.
"Atacama" is a nature themed adventure. But it also so much more. It is the story of a man pioneering a new endurance sport; one with the potential to take participants to mountaintops, deserts, arctic tundra, African savannah, and so many other places. Most importantly, it is the story about the value, indeed the centrality, of mindfulness to the human soul. This will be the true impact of the film on the viewer. Mindfulness can be life changing. Mindfulness is something our world needs much more of.
Join us in nature. Join is in meditation. Join us in slowing down, at least for a day. Join us in basking in th beauty of our lonely but glorious planet.
Note: Very large donations will be awarded an Associate Producer Credit, in the film credits, as well as on IMDb. All donations will be awarded mention in the credits, based on the donor's preferences.
Peter Wick
Robert Silk
Marceline De Angelis
Azzurri Productions